| | | | |
| --- | --- | --- | --- |
| | | Sign up for Our Newsletter and get $25 off your first Journey! | |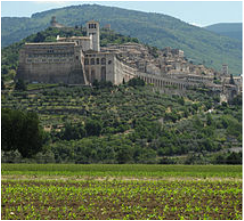 ---
"There are beautiful wild forces within us. Let them turn the mills inside and fill sacks that feed even heaven." — Saint Francis of Assisi
​

Nine hundred years ago, St. Francis shattered the illusion of separation, emptying himself completely and embracing all of creation. He experienced the ecstatic ocean of Love, described by mystics as "heaven on earth," that lies beneath the surface of our lives. Join us as we journey to beautiful Assisi, "The City of Peace" and the home of Saint Francis, to explore the ecstatic practices of Saint Francis and mystics from around the world, embodying their discoveries in our own lives and delighting in the peace, joy, and beauty of this lovely and mystical village on the slopes of Mount Subasio!
Our mornings begin
with deep relaxation and healing, profound clarity and peace of mind, and overflowing joy. We will explore the path of they mystics, the practices they shared, and the truths they discovered, drawing on the lives and writings of Saint Francis, Rumi, Saint Seraphim, Hafiz, Theresa of Avilla, the writer of the Song of Songs, and many other great mystics throughout the ages:
The Path of the Mystics: We will explore the stages of the path of Love: Love calls us to love, awakens us to its possibility, purifies our minds, heals our experience of separation, illumines us, opens us to the truth, gives us an experience of union, and then gives us back to the world as an expression of love.
The Practices of the Mystics: We explore the ecstatic practices of Francis and the other great mystics: Ecstatic Prayer, Listening Beyond Language, Remembering What Truly Feeds Us, Gazing at the Beloved, Letting the Heart Break Open, Turning Around What We Love, Relaxing into the Presence, and Remembering God with Every Breath. These gentle, natural practices use awareness, intention, breathing, gazing, toning, and movement to open us to Love and let it transform us into Love.
The Truths of the Mystics: We will explore the profound insights, experiences, and awakenings discovered by the mystics, but more importantly, those that we discover during our own journey. This will be a safe, sacred community of mystics, free from fixing, advising, correcting, or saving each other … a space to listen deeply into the mystery of our own lives and callings.
Our afternoons
will take us into the wonders of Assisi. We will explore winding cobblestone streets, sun-splashed piazzas, magnificent mountain views, glorious frescos, and hushed sanctuaries that still ring with the living presence of St. Francis. We will visit the Grand Basilicas of Santa Chiara and San Francesco, where their tombs inspire pilgrims from across the world; the beautiful chapel of Mary Magdalen, the beloved of Christ; the Portiuncula, where San Francesco lived with his closest companions, practicing a life of complete surrender and perfect joy; San Damiano, the stone chapel where San Francesco received his first calling; and the quiet caves where San Francesco meditated on Mount Subasio, praying in ecstatic union with his beloved. As we tour the city, I will share the life-changing truths I have learned from thirty-five years on the path of the mystics, focusing specifically on the spiritual teachings and practices of Saint Francis. I will help you relate to him as a human being, and show you how to integrate his powerful insights and ecstatic discoveries into your own life.
Our evenings
bring us together once again to share a joyful meal together, celebrating the blessings of our lives, and the joy of kindred spirits and loving company. We will share a little time together afterwards, reflecting together on the discoveries and openings of each day.
The setting for our retreat
will be the lovely Oasis Sacro Cuore, just outside the old city walls of Assisi. Nestled in its own private gardens just above the rolling hills and olive groves that surround the chapel of San Damiano, this spiritual retreat center offers a simple, comfortable and beautiful setting for our time together in Assisi. The hotel features quiet gardens, a private chapel for your own meditations, free wireless internet connections in the common areas, and a small restaurant. Breakfast and lunch are included with your room; we will make reservations at some of the wonderful restaurants in the old city each evening. Your final afternoon in the city will be completely free, so you have plenty of time to shop and revisit favorite places.
We will gather for the first time on Saturday afternoon, September 10, at 5 pm, and the trip will conclude with lunch on September 14; flights arrive into Rome and nearby Perugia every day, and trains run several times a day to Assisi, making it easy to add a few extra days on to the beginning or end of our time together for a private tour of Rome, Florence, or Tuscany!
"Why do you stay in prison when the door is so wide open?" — Rumi
​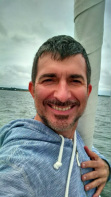 Hunter Flournoy is the director, lead facilitator and visionkeeper of the new Spirit Journeys. A heart-centered life coach, therapist, and spiritual healer, Hunter helps people of all genders and sexual orientations break free into more powerful, joyful lives through self-love, conscious breathing, and joyfully embodied spiritual practice. He is a certified Somatic Breath Therapist and a pioneer in the use of breathwork in trauma and addiction treatment, and his work integrates two decades as a licensed psychotherapist with twenty-five years of experience in the world's shamanic and mystical traditions, including the Buddhist, Sufi, Eastern Christian, Toltec, and Currandero traditions. Hunter offers individual sessions by phone and in person, retreats, ceremonies, and journeys around the world. To learn more about Hunter and his work, go to www.hunterflournoy.com.

---
FULL COST: (not including early registration discounts!) $895 Double Occupancy, $995 Single Occupancy. Payment in full is requested by Wednesday, July 27 2016. Registrations are gladly accepted after July 27, 2016, based on availability. Our retreat begins at 5:00pm on Friday, September 10, 2016. The workshop ends with lunch on September 14 (around 1:30 pm).
TRAVEL: You are responsible for travel to and from Oasi Sacro Cuore in Assisi, Italy.
Airports:
Many of you may decide to fly into Roma Fiumicino or Roma Ciampino airports, in order to take advantage of less expensive international flights. You can also fly directly into Perugia's airport, only twenty minutes taxi drive from Assisi!
Getting to Roma Termini:
You can take the train (The Leonardo Express) directly from Roma Fiumicino to Roma Termini, the main train station, departing many times each day, roughly every 30 minutes; tickets can easily be purchased at the airport train station machines. If you are arriving at Roma Ciampino, Rome's smaller airport, there are many shuttles each day, departing roughly every 30 minutes, and taking approximately 40 minutes for the journey, and costing 4-5 Euros; if you want to book a shuttle in advance, click this link here:.
http://www.terravision.eu/
Getting to Assisi from Rome, and Returning:
There are several trains each day from Rome to Assisi, and returning! The trip is approximately 2-3 hours, depending on whether you take the local or the express trains, and the price currently ranges from 10-20 Euros one way. Here's the link for purchasing tickets in advance:
http://www.trenitalia.com/tcom-en
Getting from the Assisi Train Station to our Hotel:
The simplest way to get up to our Hotel from the Assisi train station is to take a taxi; there are also local buses that run frequently; just ask if they are going to Porta Nuova; our hotel is directly across the street from the parking lot below the city gate. Hotel Information: The information for our hotel is:
Oasi Sacro Cuore,
Via V.Emanuele II,5, 06081-Assisi-Pg, Tel.075.812576-fax 075.815132, e.mail:
oasisacrocuore@libero.it
.
INCLUDED: 5 days/4 nights lodging, including all breakfasts and lunches, group transportation around Assisi, group entrance fees and all scheduled retreat activities. NOT INCLUDED: International flight tickets and transportation to/from Oasi Sacro Cuore in Assisi, Italy, meals other than breakfast and lunch, personal transportation around Assisi, travel insurance, personal items, tips, items not mentioned in the program, and extras.
OUR POLICIES: Cancellations made prior to Tuesday July 12 2016 (60 days) are subject to the forfeiture of all deposit monies paid ($200) (unless we can find another person to fill your reservation). Reservations cancelled between July 13 2016 and July 26 2016 (59-46 days) are subject to a cancellation fee in the amount of 50% of the retreat cost. Reservations cancelled on or after Wednesday July 27, 2016 (45 days) are subject to a cancellation fee in the amount of 100% of the retreat cost and are non-refundable. You may want to consider purchasing a commercial travel insurance policy, especially for international journeys, that would include trip cancellation protection.