SPIRIT JOURNEYS​​COMING IN 2018! Details Available Soon ...Spiritual Warriors Pilgrimage
in Teotihuacan and Cuernavaca, Mexico:

WHERE: Teotihuacan, Mexico (near Mexico City)

WHEN: Summer of 2018 -- Dates Coming Soon!

WHO: People of every gender and orientation!

More than ever, the world needs Spiritual Warriors: people committed to living their deepest truths, giving their greatest gifts, and empowering others! Join us in Teotihuacan, an ancient mystery school devoted to training Spiritual Warriors, and take the first incredible steps ...
---
---
More than ever, our world needs spiritual warriors … women, men, and LGBTQ two-spirits dedicated to discovering and living their greatest truth in their world, in service to all creation. For thousands of years, the Toltec Traditions of the world have trained these spiritual warriors, sending them out across the world as healers, artists, gardeners, builder, singers and storytellers, welcoming, nurturing, protecting, and empowering all that is true and beautiful and free.
If this vision makes your heart sing, here is your call: if you want to live your truest, most beautiful dreams -- dreams that have the power to make the whole world new! — join me in the glorious Pyramid City of Teotihuacan for the next step of your journey!
In this one-week retreat in Teotihuacan, we will explore the
Five Arts of the Spiritual Warrior
:
Cultivate Practical Self-Love: Reclaim the self-love, inner wisdom, and strength that were yours all along
Free Your Wisdom Mind: Release judgment, doubt, and fear as you reveal your own inner wisdom
Grow Your True Power: Renew your faith, joy, gratitude, and generosity
Surrender into Peace: Relax into the natural support of your own life
Rediscover Real Presence: Remember the truth of who you really are ...
As we practice the five arts of the spiritual warrior, we will also participate in the ancient toltec practices of the Obsidian Mirror, Toltec Breathwork, the Temazcal, Stalking, Not-Doing, Controlled Folly, The Warrior's Dance, Remembering Death, and Luminous Dreaming — a practical toolkit for transforming our lives and renewing our world!
Our guide on this journey will be Teotihuacan itself -- one of the greatest artistic, architectual, scientific, psychological and spiritual masterpieces of the ancient word, and the living library of the ancient Toltec Masters. For thousands of years people have gathered in Teotihuacan to learn how to make their lives a beautiful expression of their deepest and truest dreams. I visited Teo many times over the years with my early teachers, including Don Miguel Ruiz, author of "The Four Agreeements," until the place itself began to sing to me and through me as a powerful stream of wisdom and love that I call the Art of the Universal Toltec. That stream of wisdom and love led me through many other traditions over the years, weaving them together with the Toltec tradition in a great tapestry of human possibility, with a great, preposterous hope ... that together, we can dream a new world one life at a time.
Each morning after breakfast, we will spend several hours exploring the site of Teotihuacan and sharing sacred ceremony, then return to the hotel in time for a late lunch. Every afternoon of our journey includes free time for building lasting friendships, journaling and deep personal reflection, celebration, shopping, sightseeing, and pampering. We will gather again in the evenings for dinner, teaching, sharing, gentle yoga and dreaming practices. Our home in Mexico is the beautiful Dreaming House, located on ancient temple grounds, and now a private sanctuary for Toltec teachers and their groups during sacred pilgrimages to Teotihuacan. Family meals of delicious country Mexican food are freshly prepared with skill and love. Here, miracles seem normal, and are -- it's a magical place for a magical time!
In the second half of our trip, we will follow the footsteps of the ancient masters of Teotihuacan, as they abandoned Teotihuacan to give their wisdom a new expression in Xochicalco, a temple city perched high on a flowering hill, combining the most beautiful traditions of the Toltec and the Maya, and then on to the pilgrimage sites of Ahuehuete, the sacred tree and healing springs that mark the burial of the last priest of Teotihuacan; Chalma, where we integrate all our light and all our darkness into wholeness; and Malinalco, where the Eagle Knights made their last stand against conquest. Our home for he second half of the trip will be the lovely traditional village of Tepoztlan.
Depending on weather and availability, side-trips may be available to take a balloon ride over the pyramids for an additional fee! If you are interested, please express your interest in our registration questionnaire!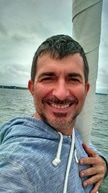 Hunter Flournoy (left) is a shamanic healer and teacher in the Universal Toltec Tradition. He helps people breathe free again, love themselves and their lives, and live their dreams. He spent ten years apprenticing and teaching in the Toltec lineage of Don Miguel Ruiz, until the place itself began to sing to him and through him as a powerful stream of wisdom and love he calls the Art of the Universal Toltec. He is a certified Somatic Breath Therapist and a pioneer in the use of breathwork in trauma and addiction treatment, and his work integrates two decades as a licensed psychotherapist with twenty-five years of experience in the world's shamanic and mystical traditions, including the Buddhist, Sufi, Eastern Christian, Toltec, and Currandero traditions. Hunter offers individual sessions by phone and in person, retreats, ceremonies, and journeys around the world.
Registration available november 1, 2017!
Details Available november 1, 2017