SPIRIT JOURNEYS​Breathing Zen, Practicing Joy:
A Meditation Retreat for GBQT Men
WHERE: Bodhi Manda Zen Center in Jemez, New Mexico
WHEN: Sunday August 5 - Saturday August 11, 2018
WHO: For Gay, Bi, Trans and Questioning Men!
HOW MUCH: Full Cost $1475 double occupancy. Register by June 6, 2018 to get $100 off!
If spiritual practice doesn't bring you profound joy,
​what exactly are you practicing?
| | | | |
| --- | --- | --- | --- |
| | | Sign up for Our Newsletter and get $25 off your first Journey! | |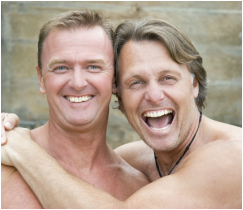 ---
Deluxe single accommodations sold out, but semi-private rooms available upon request!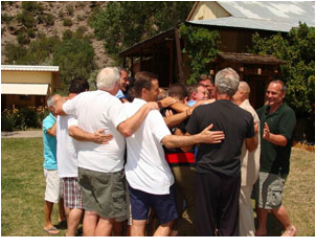 We are given this precious life to be human, whole-hearted, simple and joyful, deeply related, completely embodied, free from the struggle to be anything other than who we truly are.
What is our practice for, if not this?
Discover how to practice meditation in a way that relaxes mind and body into joyful, loving presence and embraces our human experience wholeheartedly!
Do you want a meditation practice that:
works with the body instead of against it?
embraces our human experience instead of pushing it away?
cultivates deep relaxation instead of rigidity?
cultivates wholehearted engagement and joy instead of escape?
deepens our experience of relationship with each other?
This restful, playful and profound meditation retreat will give you a joyful foundation in sitting and walking meditation as practiced in the Zen Buddhist tradition, integrated with a wholehearted and embodied exploration of being fully human. Perfect for beginners and experienced meditators alike, this retreat will help you discover a practice of meditation that deepens our relationships with ourselves, each other, and our world, and transforms spiritual practice from a struggle with the mind into an experience of relaxed, joyful presence.
We will draw upon Thich Nhat Hanh's "Our Appointment with Life" and Will Johnson's "Breathing with the Whole Body. As Zen Master Dogen said, "wholehearted practice ... allows all things to exist as they are, in perfect enlightenment." Our practice is "jijuyu zanmai," the fulfillment and enjoyment of our own true nature, manifesting in every moment, every relationship, every breath. Enlightenment is not a final goal, a state; it is the revelation of who and what we really are, unfolding endlessly in each moment.
Each day will include several periods of sitting, chanting, and walking practice, interspersed with dharma talks, discussion of our texts, movement and breathing practices, and heart circles. Every afternoon will offer free time to unwind and build friendships that can last a lifetime.
Our home for this retreat, the magical Bodhi Manda Zen Center, is nestled by the side of the rushing Jemez river in the soaring redrock canyon walls of the southwest. If you choose to explore the area, you might enjoy visiting the magnificent cliff dwellings and canyon landscape of the Bandalier National Monument, or the majestic wilderness of Valles Caldera National Preserve. The Zen Center's natural hot spring pools are accessible 24 hours a day and become a wonderful gathering place for soaking (clothing is optional after dark), conversation and pure relaxation. There are three pools ranging from cool to warm to hot, with a cold rushing stream nearby for refreshing dips. Whether you are soaking in the private hot springs at the Zen Center, strolling through the local galleries of Jemez Springs Village, or watching the hummingbirds, drifting clouds, or star-studded New Mexican sky, this enchanted landscape will become a part of you forever.
Beginners are welcome! No previous meditaton experience necessary. Our instructors will guide you every step of the way.
Spirit Journeys' Gay Spirit Retreat for GBTQ Men
is a chance explore the spiritual mysteries and privileges of being a gay, bi, transgender or questioning man! Here at the magical Bodhi Manda Zen Center, nestled by the rushing Jemez river in the redrock canyons of the Southwest, we will laugh, play, dance, and speak those mysteries!
We will rediscover our beauty, wisdom and strength, recover from the stresses of daily life, and make powerful heartfelt connections with other men. With the support of wholehearted, spiritual gay community, we will see ourselves and our lives with new eyes, rediscover possibilities, and take steps -- and sometimes leaps -- toward living life to the fullest!
During our retreat, we will:
share in joyfully embodied spiritual practices

reclaim ourselves as both spiritual and sexual, both gay/bi/trans/questioning and a man

experience the archetypes, myths and traditions of GBTQ spirituality around the world

cultivate a balance between courageous vulnerability and masculine strength

discover the profound relationship between self-love and true intimacy with others
We will enjoy group sessions and personal leisure time every day. Group sessions include body-mind meditation practice, storytelling, breathwork,
body work,
heart circles, psychodrama, shamanic ceremony, gentle yoga, ecstatic movement, singing, qigong,
and playful group exercises exploring intimacy, relationship, our challenges and visions, and spirituality.
No previous experience is necessary for any of the activities planned; instruction, guidance and support by expert facilitators is provided throughout the retreat.
Our host and abbot at the Zen Center, Jiun Hosen, will also offer instruction in meditation practice and Buddhist philosophy
, with a warm invitation to join the center's staff in morning practice.
All participants are encouraged to participate in every activity in the way that is perfect for them -- we each have our own journey!
There is plenty of free time to "chill out," unwind, and build friendships that can last a lifetime. Whether you are
soaking in the private hot springs at the Zen Center,
hiking through the sun-drenched cliff dwellings of Jemez and Bandelier, strolling through the local galleries of Jemez Springs Village, or just watching the hummingbirds and clouds of the New Mexican sky, this enchanted landscape will become a part of you forever.
Midway through the retreat, we will journey out into the wonders of New Mexico together for a day of connecting and exploration.
This year, we travel to
Bandelier National Monument
, with a brief stop at the beautiful
Valles Caldera National Preserve
for a photo op. Bandelier's human history extends back for over 10,000 years when nomadic hunter-gatherers followed migrating wildlife across the mesas and canyons, and began settling in cliff dwellings and pueblos along the canyon floor.
---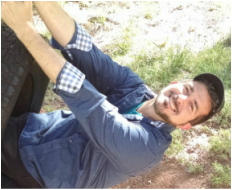 Hunter Flournoy is the director, lead facilitator and visionkeeper of the new Spirit Journeys. A heart-centered life coach, therapist, and spiritual healer, Hunter helps people of all genders and sexual orientations break free into more powerful, joyful lives through self-love, conscious breathing, and joyfully embodied spiritual practice. He is a certified Somatic Breath Therapist and a pioneer in the use of breathwork in trauma and addiction treatment, and his work integrates two decades as a licensed psychotherapist with twenty-five years of experience in the world's shamanic and mystical traditions, including the Buddhist, Sufi, Eastern Christian, Toltec, and Currandero traditions. Hunter offers individual sessions by phone and in person, retreats, ceremonies, and journeys around the world. To learn more about Hunter and his work, go to www.hunterflournoy.com.
---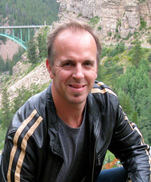 Luz Rosengren is a world traveler, educator, workshop facilitator, yoga practitioner, corporate meeting and event planner, and international tour guide with degrees in both education and sociology. As an educator, Luz began as an elementary school teacher then transitioned into university administration for a decade. During this time, his passionate focus was affirmative action, diversity, multi-cultural curriculum programming, community outreach, and human resources training and development. Throughout the early-mid 90
′
s, Luz volunteered at a hospice that specifically served people living with and dying of AIDS in Boston. Assisting with and witnessing the journey of human transition and death served as a most profound training platform for life. This led to eight years working in the New Orleans corporate entertainment industry, essentially modeling enchantment and joy. Luz currently lives wherever he is, and works as an independent meeting and event planner and international tour guide.
---
FULL COST
: (not including early registration discounts!) $1,395.00 Double Occupancy, $1695 Single Occupancy. Payment in full is requested on or before Thursday June 23, 2016. Registrations are gladly accepted after June 23, 2016 based on availability.
RETREAT INFORMATION
:
Our retreat begins at 5:00pm on Sunday August 7, 2016. Please plan to arrive no earlier than 1:00 pm and no later than 4:30pm so you have time to settle in. The workshop ends after lunch (around 1:00pm) on Saturday August 13.
You are responsible to travel to and from Jemez Springs, NM. If you are flying in and renting a car to drive to the retreat, please arrive into Albuquerque Airport no later than 1:00pm. This should give you plenty of time to arrive at the Center by 4:30pm and get settled-in. The retreat ends at 1:00pm on Saturday, August 13. Please book your return flight for 4:30pm or later. Jemez Springs is located 60 miles from Albuquerque Airport. There is no public transportation from Albuquerque Airport to Jemez Springs. The Zen Center will provide round-trip airport transfers at specific times; see below for details. Jemez Springs is 1 and ½ hours drive from Santa Fe. The temperature in Northern New Mexico in June is delightful, days in the 80's and nights in the 50-60's, making this an ideal time of year for our retreat.
AIRPORT TRANSFERS
: The Zen Center will be providing round-trip airport transfers for a cost of $35.00. The pickup times on August 7 at Albuquerque Airport going to the Zen Center are 1:00pm and 3:00pm. Please arrange your arrival flights accordingly. The departure on August 13 from the Zen Center back to the Albuquerque Airport is 1:30pm. Please book your return flight for 4:30pm or later.
INCLUDED: 7 days/6 nights lodging, dinner Sunday night, three meals Monday-Friday, breakfast and lunch on Saturday and all workshop activities.
NOT INCLUDED:
Transportation to/from Bodhi-Manda Zen Center,
single lodging supplements
, travel insurance, personal items, tips, items not mentioned in the program, and extras.
​
OUR POLICIES:
Cancellations made on or before June 8, 2016 (60 days) are subject to the forfeiture of all deposit monies paid (unless we can find another person to fill your reservation). Reservations cancelled between June 9, 2016 and June 22, 2016 (59-46 days) are subject to a cancellation fee in the amount of 50% of the workshop cost. Reservations cancelled on or after Thursday June 23, 2016 (45 days notice) are subject to a cancellation fee in the amount of 100% of the workshop cost and are non-refundable. You may want to consider purchasing a commercial travel insurance policy, especially for international journeys, that would include trip cancellation protection.
​
INFORMATION ABOUT THE BODHI MANDA ZEN CENTER:
Lodging at the Zen Center is simple, rustic, and comfortable - each bedroom accommodates two to three persons. A limited number of single rooms are available for a single lodging supplement. The Zen Center recently renovated many of the bedrooms and bath facilities, and completed an exquisitely designed, award-winning new meditation hall. The Center follows a mostly vegetarian diet, but works hard to accommodate individual dietary needs. Wireless internet is available. The Zen Center's natural hot spring pools are accessible 24 hours a day and become a wonderful gathering place for soaking (
clothing is optional after dark
), conversation and pure relaxation. There are three pools ranging from cool to warm to hot, with a cold rushing stream nearby for refreshing dips. Participants enjoy relaxing and playing in these hot springs at night under the New Mexico star-studded sky. Feel free to learn more about the Zen Center by visiting their web site at
www.bmzc.org
.
​
"Totally Awesome! It was the vacation that I can say was the best of my life. I was able to meet some of the greatest teachers. How can one come back to the routine of day to day activities after something this awesome. I have been at work a week and I find myself wondering why I came back. Thank you for allowing me to be a part of this adventure. I hope I can do other things that Spirit Journeys has to offer in the future!" - Will, Tennessee

"I cannot say enough good things about the facilitators and how the retreat was organized. I really appreciate the balance between learning about myself and learning about spirituality. Almost one week later and I still daydream about the events of that week." - Jeff, Oakland, CA

"The Jemez Springs retreat experience still echoes in my entire being. The facilitator team's constant energy cascade of compassion, care, and respect for all of us was healing, and memorable. Each guided exercise and experience was transforming in some way." - David, Tucson AZ

"The retreat was extremely important event in my life. It has changed me in so many ways. I dream differently, I treat people differently, I have lost my guilt, sins and scars from past events. I have gained courage to take risks and not be afraid. I feel like I know who I am again." - David, Fort Myers FL